"If it measures good and sounds bad, it is bad; if it measures bad and sounds good, you have measured the wrong thing." – Daniel Von Recklinghausen, former engineer H.H. Scott and editor of JAES
In 1990, after several years of research and development, Kevin M. Hayes left an academic career to start VAC. He was aided by his father, Channing W. Hayes, an aerospace engineer who had designed the range tracking system for the first Sparrow missile (using vacuum tubes), circa 1955. Kevin's driving force was, and is, the desire to experience a more vivid and life-like reproduction of music in the home.
The essence of musical performance is what VAC is all about. In the art and science of audio, VAC products are masterpieces because they allow each recorded performance to be the masterpiece the musicians intended.
As our quote from the legendary Daniel Von Recklinghausen indicates, subjective musical satisfaction is our primary goal. We require that all VAC components sound superb and measure at least reasonably well. Great care is evident in every note sounded by a VAC. The first principles' design precepts of VAC's design team are allied to a relentless search for musical accuracy. This same care extends to reliability and customer service.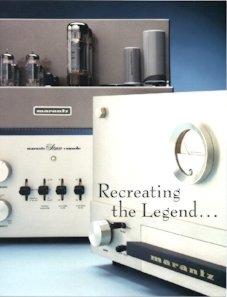 An unusual endorsement of the care and quality of VAC products occurred in 1995 when VAC entered into an arrangement with Marantz to resurrect and manufacture the Marantz Classic Model 7, 8B, and 9. More than 5,600 units of these labor-intensive hand-wired replicas, as well as the all-new Model 66 have been produced by VAC. (VAC and the Marantz Classics)

VAC components have consistently received the highest praise in publications around the world … Sound and Vision, Hi-Fi News & Record Review, Maxim, Audio, Fi, Home Theater Technology, Stereophile, The Absolute Sound, Stereo Sound, Positive Feedback, The Audio Adventure, Ultimate Audio, Bound For Sound, The Sarasota Hearld-Tribune … even Business Week has featured VAC products, Scientific American has quoted Kevin Hayes on state-of-the-art audio and tubes, and he has appeared on CNN and WRAL-TV.
No discussion of design philosophy and features will prepare you for the sound of these finely crafted instruments. One listen and you will appreciate that VAC is the world leader in audio entertainment, an appreciation that can only grow over a lifetime of listening.